A mobility scooter is an incredibly important part of many people's lives, so when buying one, you need to ensure that you've done the correct research before making your purchase, as it will impact your ability to get from A to B.
A quality mobility scooter will greatly affect on your quality of life by giving you more independence and ease of movement. Once you have chosen a mobility scooter that suits your needs, it will be a huge weight off your shoulders.
We're here to be a guiding light when it comes to choosing the best mobility scooter for your day-to-day life. With an unmatched knowledge of walking aids, mobility scooters and other mobility solutions, we can help make the buying process simple and straightforward. 
Everyone has their own unique needs and desires; at Able To Enable, we are committed to listening to your requirements and finding you a mobility scooter that ticks all of your boxes. If you want to know which mobility scooters we love this year, then look no further. We've selected our favourites, which stand out from the crowd in terms of design and function, to help you narrow down your search.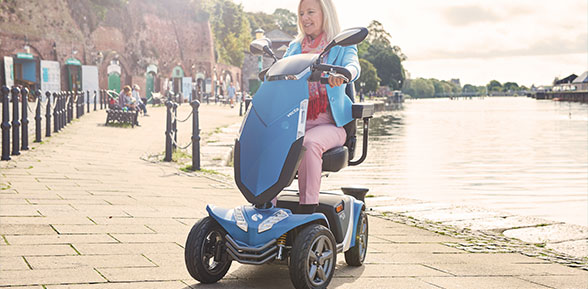 Rascal Pioneer Mobility Scooter
If you need a proven performer with a fantastic record for reliability and durability, look no further than the Rascal Pioneer Mobility Scooter. This is a fantastic, allrounder road scooter with an exceedingly good reputation. With a full coil suspension, the Rascal Pioneer is ideal for unknown terrains and undulated ground. It is also great for anyone who struggles with severe aches and pains as the brilliant suspension will absorb bouncing. What's more, it has one of the highest ranges on the market; with up to 35 miles per battery, you can travel as far as you need. When it comes to independence, the Rascal Pioneer Mobility Scooter cannot be beaten.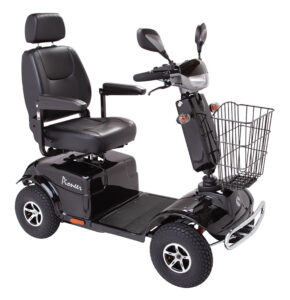 Features
This mobility scooter features a delta tiller,a style of handle bar that is curved into an oval shape, instead of being a straight bar. This provides a greater number of angles that you can hold the handlebars, meaning that you can grip it comfortably no matter your dexterity. This mobility scooter is suitable for anyone who struggles with grip, as top speed is restricted by a knob on the control panel. In addition to this, the mobility scooter features simple and easy to use panel control buttons, which is perfect for those who have trouble with LCD screens. 
The Rascal Pioneer comes with a sliding swivel seat which is ideal for comfort and allows easy access in and out of the seat. It also comes with a padded headrest and armrests, as comfort is a priority with this model.
Boasting functionality as well as design, it has a full coil suspension and up to a 35 mile range. The powerful motor makes it an ideal scooter for the more challenging environments.
With all this and more, the Rascal Pioneer Mobility Scooter has quickly become one of the most popular scooters on the market.
Optional Extras
There are some bonus features that can be added to this mobility scooter. 
A stylish rear mounted lockable box fitted on a sliding mount for easy access.

An all-weather canopy with or without a polycarbonate front shield

An exclusive Rascal basket bag
Specifications
Overall length – 147cm / 58"
Overall width – 64cm / 25"
Maximum carrying capacity -159kgs / 25 stone
Maximum speed – 12.9km/h / 8mph
Maximum kerb height – 10cm / 4"
Maximum Range – up to 56km / 35 miles
Rascal Vision Mobility Scooter
Offering more than you might expect from a Class 3 scooter, the Rascal Vision Mobility Scooter is equipped with everything you could possibly need to make your life easier. Form and function come together to create something very special in this mobility scooter; a well-padded seat provides good lumbar support while a charging point on its tiller means that it is easy to charge without over-exerting yourself. The Rascal Vision doesn't compromise on style, and combines a modern feel with uncompromising intelligent design to make a world of difference.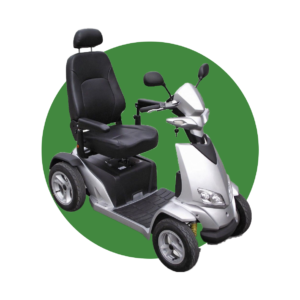 Features
The Rascal Vision Mobility Scooter contains a new, modern gearbox that features improved grip, handling and safety. This is the benefit of purchasing a modern mobility scooter as it comes with some of the best engineering on the market. If your main concern is energy efficiency and functionality, then this is the scooter for you.
It also boasts incredible front coil and rear mono-shock suspension that will make any adventuring much more practical. The future of transportation couldn't be brighter, as this mobility scooter features everything you need, with the right touch of style.
Everything about this scooter is practical, from the modern LCD panel and twin mirrors, to the auxiliary USB power outlet for charging mobile phones. Other forward-thinking features include a safety turning sensor to slow the scooter down andan emergency braking system.
Optional Extras
The Rascal Vision also comes with some exciting extra features that are completely optional:
A lockable box fitted at the rear of the scooter on a sliding mount, offering security and easy access

A canopy, available with a polycarbonate front shield, to offer protection from all weather conditions 

A 100Ah battery pack to give extended range of up to 60km / 37 miles, depending on user weight, incline and terrain.
Specifications
Type Class – C / 3
Overall length – 154cm / 60.6"
Overall width – 72cm / 28.3"
Maximum carrying capacity – 204kgs / 32 stone
Maximum speed – 12.9km/h / 8mph
Maximum kerb height – 10cm / 4"
Range – up to 45km / 27.96 miles
Colour – Black / Silver
Rascal Veo Sport Battery-Powered Mobility Scooter
Try the Rascal Veo Sport Battery-Powered Mobility Scooter if you're looking for a mobility scooter with a small, sporty design. It is fully loaded with modern features and has superb functionality for a scooter of its size. Operating on either14 or 22Ah batteries, this scooter affords a range of up to 13.5 miles. This mobility scooter may be small, but it sure is mighty. And with features such as a padded delta tiller and a luxury seat, you can rest assured that you're getting a quality means of transportation.
It's all about the little things when it comes to a comfortable ride, and that is this scooter in a nutshell. It comes with world-class, all-round suspension which is perfect for anyone who suffers with pain when jolted about. All in all, we would describe the Rascal Veo Sport as a real pleasure to ride.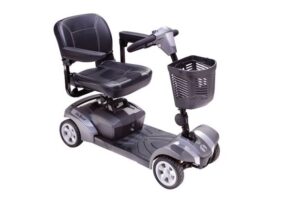 Features
The Rascal Veo Sport's easy and robust take apart mechanism allows you to easily store or drive away with it in the boot of your car, so it is very practical. Don't let this underwhelm you, as its distinctive looks, including the unique white accent stitching, and exclusive all-round suspension, mean that it is a travel scooter with an edge! This makes it an ideal scooter for everything from day trips to holidays overseas.
Comfort comes as standard with the Rascal Veo Sport Battery-Powered Mobility Scooter. The seat is adjustable and features arm rests on both sides, making this scooter a real pleasure to ride. You can travel all day long without any discomfort!
Safety-wise, this little mobility scooter boasts dual compound puncture proof tyres and rear reflectors for safety when you're out and about during the evening. 
Advice When Choosing A Mobility Scooter
When we made this list of the best mobility scooters to buy, we took into account the most useful features for mobility scooter users. We believe that the most important features include: storage capacity, comfort and portability. These are the things that will take a mobility scooter from a pass to a must-have. Whichever scooter you decide to go for is a matter of preference, and will vastly depend on your medical and everyday needs.
Just remember, it is likely that you will be sitting in your chair for extended periods of time and so it is important that you choose a mobility scooter that ticks most of, if not all of, your boxes. The mobility scooters we've listed above are real contenders for the best mobility scooters of 2022, which is why we can't recommend them enough.
Need Personal Support Choosing A Mobility Scooter?
If you live near York or Harrogate, you can benefit from our help in-store; our dedicated team of mobility specialists are dedicated to helping you, in any way they can. If you live further afield, we are still committed to assisting you in your search – just contact us online or over the phone. 
Able To Enable are proud suppliers of mobility scooters and we have been providing mobility solutions throughout Yorkshire for over twenty years. Our extensive experience means that we know exactly what our customers need, and we are more than happy to share this kind of information. 
Contact us today by completing our online form, and a member of our friendly, customer-focused team will get back to you swiftly. In the meantime, be sure to take a look at our extensive collection of electric or powered wheelchairs. And if you are interested in reading more informative articles about mobility solutions, our resource page is the best place to start.