Stairlifts can transform your lifestyle and can help you regain the independence and confidence that you may have recently lost due to mobility issues. Most importantly, it can give the assurance that you need to safely get up and down the stairs and in comfort.
While buying a home stairlift is a straightforward experience, it can be overwhelming when you compare the different types of stairlifts, makes, models, features and optional extras. You should also consider the ease of use, safety, convenience, comfort and cost, as these are some of the most important considerations.
This is why, at Able to Enable, we've broken down these steps to make buying a stairlift plain and simple. 
We provide you with a free home survey to give you a better understanding of your available options, with no obligation to make a purchase. To help make this process a little simpler, we've also put together this easy-read guide if you're considering a stairlift for your home.
Consider the Mobility & Specific Needs
The first thing you need to consider is the mobility and specific needs of the person who potentially requires a stairlift and how the stairlift can support their needs.
Depending on the individual mobility needs, you may need a certain type of stairlift with additional features to offer the very best support that is right for the user. Considering the individual needs for a home stairlift will help you choose the most appropriate stairlift.
Considering the Stairlift Options: Straight or Curved?
The style of your staircase will dictate the stairlift you choose. At Able to Enable, we offer two types of stairlift, which includes straight stairlifts and curved stairlifts.
Straight Stairlift
Straight stairlifts are incredibly useful for those that can no longer navigate up and down stairs easily. As the most common type of household stairlift, they have no turn or bend in them. They can be fitted to a single flight of stairs that ascends in a straight line.
As the most cost-effective type of stairlift, straight stairlifts require minimal customisation and are more affordable than curved stairlifts. This also means that they are quicker to install, with installation typically taking a couple of hours.
Straight stairlifts cannot be used if a staircase is curved, and also when multiple flights of stairs are present unless a stairlift is fitted for each flight of stairs, providing the user is able to move between the two stairlifts. Otherwise, you may wish to opt for a curved stairlift which can be more appropriate.
Curved Stairlift
If your stairs have a curve, then a curved stairlift must be fitted. Unlike straight stairlifts, curved stairlifts are suitable for stairs with turns and corners. Curved stairlifts require more customisation compared to straight stairlifts, so can take slightly longer to have fitted.
A curved stairlift comes in a variation of designs, including half-landings, quarter landings, spiral landings or fanned landings. Curved stairlifts can be used to reach multiple floors and can be custom-made to fit your exact staircase.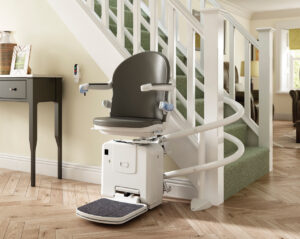 A great benefit of having a curved stairlift is that it can give plenty of space left on the stairs for others to use them as normal, with the curved stairlift providing a close fit that cannot be achieved with a straight stairlift. You will also have a parking bend, meaning that the seat can be parked clear of the top or bottom of the stairs.
Curved stairlifts are far more versatile than straight stairlifts as they can be made-to-order to the individual staircase, however, this does mean that curved stairlifts can be slightly more costly as they are custom-made for each home.
Deciding What you Need
Deciding what you need is crucial. Due to the wide variety of stairlifts and customisation of stairlifts to fit exact staircases, the available options & costs can vary. Sometimes it is necessary to have features such as a sliding track on a straight stairlift which is designed to avoid a trip hazard if you have doorways at the bottom or top of the stairs.
When you arrange a no-obligation assessment of your home, the surveyor can discuss options available such as a powered swivel seat or a powered footrest for example, and provide a cost for your chosen stairlift solution, without the hassle of a hard sell. We take the time to ensure you are aware of all stairlift options, without the pressure to commit to a purchase.
You can even save money by buying a reconditioned stairlift that is fully factory refurbished to the same standards as our new stairlifts. These are subject to availability, please get in touch to arrange a survey.
Choose Able to Enable as Your Stairlift Partner
When shopping for stairlifts, you may wish to get a couple of quotes but be sure to choose a company that provides long-term benefits following a purchase. We can help.
We work directly with one of the biggest stairlift manufacturers to ensure our customers choose a stairlift company that provides the best benefits, for example, 24/7 call-outs (365 days a year), servicing, maintenance and repairs as well as being a Which? Trusted trader for service. 
As you want to choose the best stairlift solution for your home, we do advise that you speak to a representative to talk you through your options, which is why we recommend looking for a supplier that offers no-obligation quotes, free of charge. 
Please also be aware that some stairlift suppliers are renowned for providing an initial high price and then continually discount if you do not proceed with pressure to buy expensive additional warranty which is not necessary or good value. They do this to make it seem like a good deal (like double glazing sales people) rest assured, this would not happen through us. A surveyor would survey your home, discuss options available and provide you with a fair price first time with no pressure to buy, from a name you can trust.
What Is the Best Stairlift to Buy?
We hope our complete guide to choosing a home stairlift has helped you understand how to decide which is the best stairlift for you to buy for your home. Primarily, you need to consider your budget, the limitations of your stairs and home, and your own personal tastes and preferences.
Stairlifts can greatly increase your quality of life and can help you to regain the independence and confidence that may be lost due to mobility difficulties. Home stairlifts are a significant investment, and so it is important that you make a purchase in full confidence.
If you would like some personal advice about buying a stairlift tailored to your individual needs and requirements, then please don't hesitate to get in touch. We have a wealth of expertise in all kinds of mobility solutions and are experts at pairing people with the right kind of stairlift. 
Contact us today by completing our online form, and a member of our friendly, customer-focused team will get back to you swiftly. 
In the meantime, be sure to take a look at our extensive collection of mobility stairlifts. If you are interested in reading more informative articles about mobility solutions, our resource page is the best place to start.