Buying a new car can be difficult and confusing, because there are a lot of things you need to know and a lot of factors that you need to consider. This is doubly true when buying a car with wheelchair access.

It is important that your wheelchair accessible vehicle (or, WAV) ticks as many boxes as possible, which is why we want to try and point you in the right direction, so that you know where to start looking and what you should be looking for.
Able To Enable are proud suppliers of wheelchair accessible cars, and have been providing mobility solutions throughout Yorkshire for over twenty years. Our extensive experience means that we know exactly what our customers need, and we are more than happy to share this kind of information. The most important thing to remember is that it is a limited market, so be prepared to compromise when searching for the best wheelchair accessible car for you and your needs. Some of your requirements are more important than others, and so you need to be able to prioritise. Striking that perfect balance will help you find the right car for you.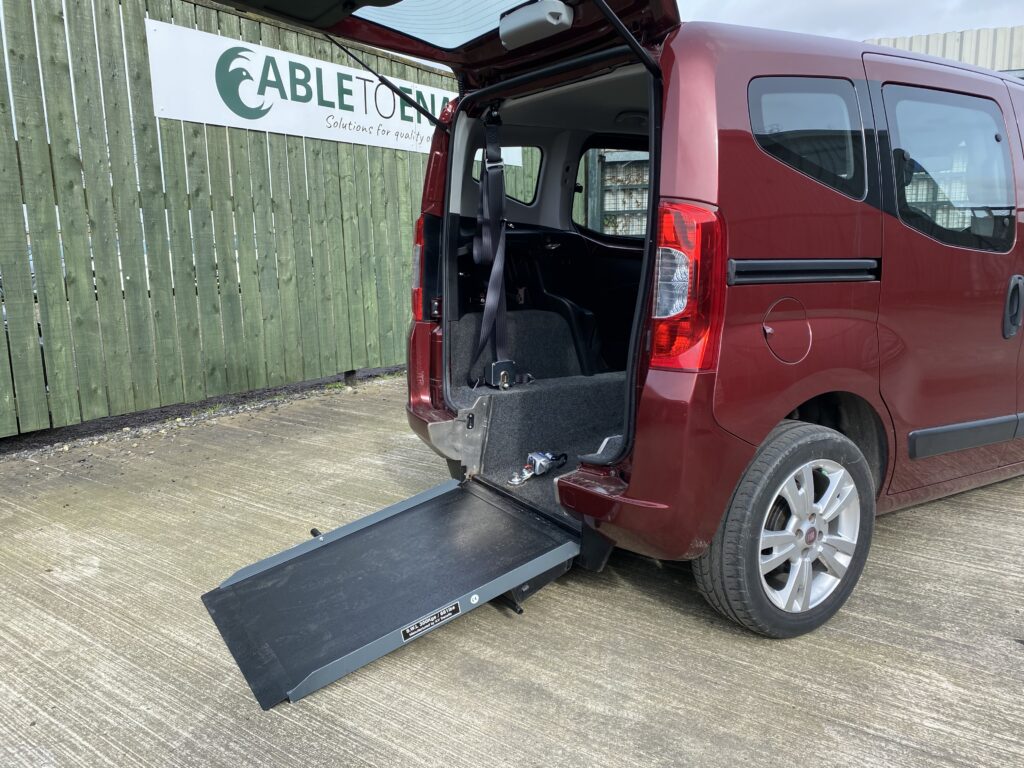 We have compiled a list of 8 things you should know when buying an accessible vehicle. This is the perfect buyer's guide to accessible cars, including all of our top tips and expert advice, garnered through years of experience and industry knowledge.
Manual Vehicle v Automatic Vehicle
Vehicle Size
Storage
Accessibility (including wheelchair positioning!)
Vehicle Adaptations
Multi-Purpose Vehicles
Safety And Quality
Specialist Dealerships
Manual Vehicle v Automatic Vehicle
When looking for cars with wheelchair access, you have the choice between manual and automatic transmissions. A manual car has three pedals (the accelerator, the brake and the clutch) which the driver moves between, while an automatic car changes gear by itself, according to your current speed.
While your choice is largely dictated by the preferences of the driver, it can have some influence on the vehicles that are available to you. A huge deciding factor is whether the wheelchair user will be operating the vehicle, or if they will be a passenger. This is because the adaptations that you require could change, and there aren't as many adaptations available for manual vehicles. For example, hand controls aren't possible on a manual vehicle but they are incredibly useful if you are a wheelchair user, because they allow the driver to accelerate and brake without using their feet. If this is something that you are interested in, you may be better suited to an automatic system.
Vehicle Size
Wheelchair accessible cars are available in numerous shapes and sizes, and this dictates the accessibility, storage, purpose and possible adaptations of your vehicle. All of these factors will be covered momentarily. When considering the size of your wheelchair accessible car, you should also consider how many seats you require and how many people that you need to transport in a comfortable, safe manner.
There are typically four sizes of vehicle available: small, medium, medium-large and extra large. This sizing should be taken with a pinch of salt, as there is no set size guide, and no firm requirements for seating or storage. You should take into consideration your current and future needs (as this is likely a car that you will keep for several years), as well as your parking options, as it should be able to fit in your garage or driveway and still allow for convenient access by all parties.
Small WAV
A small wheelchair accessible car typically fits two to three people, plus the wheelchair user or mobility scooter. They are great for general use, but the limited number of passengers can be inconvenient or inappropriate for those with a large family, or those who don't like to be constricted to a small space.
Medium WAV
A medium wheelchair accessible car can normally accommodate three, four or five people, plus the wheelchair user or mobility scooter, depending on the seat layout. They offer more space, which is useful for outings and extra storage, although the positioning of the seats can be restrictive.
Medium-Large WAV
A medium-large wheelchair accessible car typically fits five passengers. This is a controversial vehicle size, as the additional seats means that the wheelchair user is behind the other passengers. The car or van can have a ramp or lift to aid accessibility and functionality.
Extra-Large WAV
An extra-large wheelchair accessible car does not have a set number of seats; the extra size could hold seven passengers or it could offer more internal space, allowing for greater flexibility and maneuverability than a smaller vehicle. This is a useful size if you require specialist equipment, extensive travel or further, more complex, adaptations.
Storage
Something else to consider when buying wheelchair accessible cars is the kind of storage space that is available. You will need to think about storage for both your mobility vehicle and for anything else you may need to bring with you in a car, from shopping to suitcases.
Boot storage is the most widely available kind of storage, however it is also wholly dependent on your physical capabilities. This is because you would need to be able to lift the wheelchair into the boot, and then get into the car yourself, or have someone available that is strong enough to do so for you.
A wheelchair hoist can be a convenient middleground. It relies on the wheelchair user having enough mobility to walk from the boot of the car to the passenger seat, but once there, a boot-mounted electric or hydraulic hoist will lift the wheelchair into the car.
Rooftop storage is one of the most effective kinds of wheelchair storage, especially if the wheelchair user is also the driver. The rooftop storage uses hydraulic or electric hoists that can be operated from the inside of the car, so that once you are within the vehicle you can load the wheelchair easily. A swivelling sweat can make the transition between chairs even more convenient.
Accessibility
The best wheelchair accessible cars put the needs of the wheelchair user first, and this is something that should be your priority throughout the trialling and purchasing of your new vehicle. The kind of accessibility that you require from your car depends on where the wheelchair user will be travelling within the vehicle, and whether or not they will be driving.
There are five possible wheelchair positions within a wheelchair accessible vehicle: drive from, transfer, upfront, middle and rear. The accessibility of the vehicle is largely determined by its size and shape, and so you will need to consider access, sill and vehicle height. Knowing the measurements of the door opening angle and the door opening width will also help you to decide if the vehicle is suitable for your specific wheelchair.
Drive-From Wheelchair Accessible Cars
These vehicles mean that you can operate the car while still residing in your wheelchair. The wheelchair should be locked into place using a docking station, and there are many different adaptations that can make it easy to operate, enter and exit without any assistance.
Transfer Wheelchair Accessible Cars
This vehicle allows users to transfer from their wheelchair to the driver's seat, which means they can still operate the vehicle. Once again, there are different adaptations available to ease the transition between chairs.
Passenger-Upfront Wheelchair Accessible Cars
This car means that the wheelchair user is able to sit next to the driver, and is not restricted to the rear of the car. This is a hugely popular style because it promotes conversation and allows both passengers to engage in a more traditional travel arrangement.
Mid-Passenger Wheelchair Accessible Cars
This is the most common of its kind, wherein the wheelchair user is in the main body of the car. There may be no other seats within the vehicle, depending on its size.
Rear-Passenger Wheelchair Accessible Cars
The car requires the wheelchair user to sit behind the back seats. They are somewhat controversial, as they can make individuals feel isolated, but they are also incredibly practical, and favoured by taxi companies because of their simple functionality.
Accessibility Features
Depending on the desired location of the wheelchair user, you will require different accessibility features to allow easy manoeuvrability. Ramps, lifts and winches are all common features which promote accessibility, and can be utilised by powered wheelchairs, manual wheelchairs and mobility scooters.
Vehicle Adaptations
Wheelchair accessible vehicle adaptations ensure that all of your needs are met. Some of the most popular additional features include hand controls, left foot accelerators, pedal extensions, indicator extensions and steering spinners. These driving adaptations can be tailored to your individual requirements, so that you feel safe, comfortable and confident while driving.
Your perfect car may not come with additional accessibility features, and so it is important to ensure that they can be fitted retroactively. Whether this is possible can depend on the size, make, model and system. It is therefore best practice to consider the features that you require, and center your vehicle search around them, to ensure that you are selecting the best wheelchair accessible car for you.
Multi-Purpose Vehicles
The kind of accessible car that you need is influenced by who will be using the vehicle and the kind of journeys that you will be taking. If you are going to be travelling for long distances and long periods of time, you may need a larger vehicle to support your storage and manoeuvring needs. If you are only going to be making small trips around the local area, there are different factors to consider. The overarching purpose of your vehicle dictates the amount of seats and kind of storage you need.
Safety And Quality
It is absolutely essential that any wheelchair accessible cars that you test or purchase adhere to the highest levels of safety and quality. This is imperative both for your own health and safety, the health and safety of other road users and the validity of your car insurance. You should ensure that your vehicle has undergone a proper inspection, both inside and underneath, and that all adaptations have been checked to make sure that they are fit for purpose.
The easiest way to ensure that you are purchasing the best wheelchair accessible cars with the best safety and quality components, is to purchase from a registered specialist. This guarantees peace of mind, every time.
Specialist Dealership
The most important thing to know when buying an adapted vehicle, is where to buy it from. This is because your chosen provider can determine the safety and suitability of your car. If possible, try to ensure that you only purchase from a reputable, specialist dealership. A wheelchair accessible car is not a standard car, and shouldn't be treated as such. Whether you want to purchase a new wheelchair accessible vehicle or a second-hand wheelchair accessible vehicle, you should go to the best.
A great example of this is buying through Able To Enable. All of our vehicles are well looked after, ex-motability vehicles, or sourced brand new for you. Part of being a specialist dealership means that we can offer a range of makes and models and dedicated servicing facilities. Our unmatched knowledge allows us to perform maintenance, inspections and examinations of specialist components, which non-specialist providers would not be able to offer.
Buying The Best Wheelchair Accessible Cars With Able To Enable
If you are currently searching for the best wheelchair accessible car, we are confident that Able To Enable will be able to help. Whether you know exactly what you are looking for, or aren't sure on the details, a member of our professional team can help find the best solution and combination of products that could dramatically improve your current quality of life.
If you have any questions, or would like any more information, then please don't hesitate to get in touch. Contact us today by calling us on 0190 4690 666 to speak to a member of our York team, or 0142 3880 882 to speak to a member of our Harrogate team. We are committed to offering the highest level of customer service, and the finest mobility and accessibility equipment on the market.